The Importance of Dental Exams
Attending routine oral assessments you take a preemptive stand to preserve the health of your smile. An annual oral exam at DentalWorks - Hyperlingo assesses dental caries, gum disease, cancer of the mouth, and various other problems that might be impacting your oral and general health. Typically performed during biannual dental cleaning appointments, dental exams Dr. Dentist Two study the teeth, gum tissues, arch alignment, jaw, and further oral structures and could ensure early diagnosis and treatment of dental issues. To preserve the wellness and visual appeal of your teeth, come in for a comprehensive dental exam at our City, ST practice.
Reportedly, 50,000 Americans receive a diagnosis of oral cancer each year; however, the disease might be highly manageable if diagnosed in its earliest stages. Oral cancer is defined as an abnormal accumulation of cells that can develop in or near the, like on the, mid-face, tongue, salivary glands, jawbone, and the neck, along with additional oral structures. performs an oral cancer assessment at every yearly exam to identify precancerous growths, cancerous growths, or various other abnormal areas. A few of the normal indications of oral cancer are abrasions, swelling, raised or rough lesions, and discolored regions of skin. The regions of concern may be removed and analyzed, or you could be referred to a physician for further management.
Who Should Get Dental Exams?
City, ST residents of every age should be receiving oral checkups no less than one time every year for comprehensive care. Dental exams can also be done if needed to assess oral pain, trauma, and other conditions that can manifest between visits. Periodontal diseasethe main cause of tooth loss and tooth decay might not cause obvious signs to develop until the later phases. If oral issues are found promptly, we can often offer a more diverse range of options for management.
The () all young patients visit a dental care provider before they turn one. To help kids at a young age, our staff can help with common concernslike the eruption of new teeth and thumb-sucking and guide you in caring for your young one's teeth and gum tissues as their jawbone tissues evolve. Routine comprehensive oral exams can help your children develop proper oral practices from the beginning and let them have bright smiles for a long time.
What To Expect During Your Visit
Comprehensive exams at our City, ST facility get underway with a review of your medical record. We might also ask about any oral problems or cosmetic smile desires you have to learn more regarding your overall oral well-being. During certain routine check-ins, a series of detailed x-rays may be ordered to give more insight into the health of your teeth and bone tissues. They could then perform a screening for oral cancer, check the alignment of your arches and jaws, and look at your teeth for cracks, as well as the condition of any dental appliances. A exam can also be conducted to detect any symptoms of disease.
Developing great dental hygiene techniqueslike regular toothbrushing twice a day and flossing no less than one time daily could help to lessen your likelihood for getting cavities and periodontal disease. performs routine dental exams typically once annually, generally at one of a patient's six-month professional teeth cleaning visits; however, we could schedule exams more frequently for people who have significant oral wellness disorders. Our facility offers a wide range of comprehensive procedures, such as state-of-the-art dental fillings, dentures, and ceramic veneers, to meet your personal smile concerns. When needed, our dental professionals can help you arrange check-in sessions.
Insurance Coverage for Exams
Annual assessments are classified as general care services and are generally paid for by insurance plans. Before your exam, someone on our business team will go over your personal plan and inform you of any potential out-of-pocket expenses. DentalWorks - Hyperlingo is proud to provide a number of simple payment methods to make sure that men, women, and their families can obtain effective, low-cost care.
Why does my tooth hurt?
Toothaches are caused by a number of issues. The most common cause, cavities, or tooth decay, create a painful environment around or inside the affected tooth. Some patients may have an abscess, or an infection of the tooth root, which can cause excruciating pain.
How long should I wait to see a dentist if my tooth hurts?
A toothache typically develops from an infection or damage somewhere inside or around a tooth. Treating tooth pain with pain-relieving medication might provide temporary relief. We recommend seeing the dentist if your toothache lasts longer than a day, because your condition can worsen if left untreated.
How is a toothache treated?
After an examination, the dentist may take x-rays to further decipher the cause of your toothache. Once a diagnosis is reached, a treatment plan will be prescribed to address the toothache. These treatments may include antibiotics and fillings to more in-depth procedures, like a root canal or tooth extraction.
How can I prevent a toothache?
The best way to prevent a toothache is by maintaining good oral hygiene practices. Brush your teeth gently twice a day with a fluoride toothpaste and floss at least once a day. If you play sports, consider wearing a mouth guard. And don't forget to schedule regular dental exams and cleanings twice a year.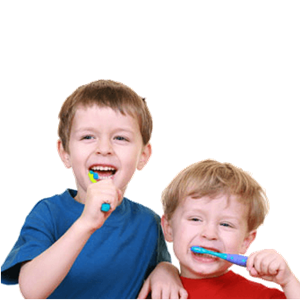 Protect Your Smile With Preventive Care
Enjoying a healthy smile takes more work than simply seeing a dental care provider if you have an issue. Regular dental exams at DentalWorks - Hyperlingo allow for immediate identification and treatment for oral issues and are crucial in protecting your health. Plan your family's yearly oral exams with Dr. Dentist Two at our City, ST office today.
Related Procedures
Related Posts